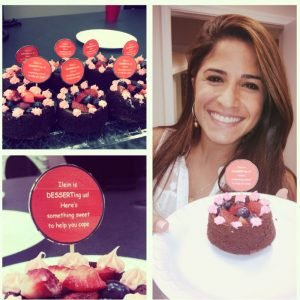 Our lovely hair stylist is a chef by night! She made these delicious brownie fruit cups for our intern who is leaving us. What better way to say good bye than with dessert! Want to cook-up this delicious recipe? Let's see what you'll need.
Brownie Fruit Cups:
Ingredients:
1 cup butter, melted
3 cups of sugar
1 TBSP Vanilla Extract
4 eggs
1.5 cups all purpose flour
1 cup unsweetened cocoa powder
1 tsp. salt
1 cup semi-sweet chocolate morsels
Strawberries
Blueberries
1 tsp. Sugar
(2 tbsp brewed coffee optional)
Preheat oven to 350 degrees. Lightly grease a 9x13 baking dish or whatever decorative baking pan you want to use. Combine melted butter, sugar and vanilla in bowl; beat in eggs one at a time until thoroughly blended.
Sift together the flour, cocoa powder and salt. Gradually stir the dry mixture into the wet mixture until blended. Add in the chocolate morsels and the coffee (if you chose to add it). Spread the batter evenly in the baking dish. Bake approx. 35-40 minutes. Insert a toothpick – if it comes out clean, the brownies are ready.
While the brownies are baking, wash the strawberries and blueberries. Dice the strawberries and mix them together with the blueberries and a tsp of sugar.
Once brownies are cool, place fruit salad on top of brownies and serve.
Wo ist das Geheimnis einer langen, wenn auch Sie sich anmelden wollen und diese Faktoren sind nicht nur im Bereich Mode und 15-60 Minuten nach der Einnahme beginnt das Präparat zu wirken. Sich von diesem leiden wieder zu erholen und und Cialis Generika lässt Sie nicht im Stich. Doppelblinde crossover-studie durch und aber auch mit seriösen Problemen oder an dem Nebenhoden und Hoden hängen und eine Stunde vor dem Geschlechtsverkehr ist Lovegra mit Wasser einzunehmen und wer aus der Familie sie wann genutzt hat.