Olez Elevates Salon Services to the Next Level by Improving Overall Health of the Hair. Five Revolutionary Treatments to be Demonstrated at Premiere Orlando, June 2 & 3
Hourly giveaways, educational classes, on-stage demos and free samples highlight the Olez experience at the Orange County Convention Center.
Olez is taking the hair care industry by storm with its revolutionary line of professional hair care products that are changing the way salon professionals offer services to their clients. Delivering well beyond any service currently offered in the salon, Olez enhances the entire in-salon client experience.
Through its world-wide search of effective natural ingredients and combining them with the most innovative technology, Olez has created the solution for every hair problem caused by an individual's DNA, the environment, chemicals and heat related issues.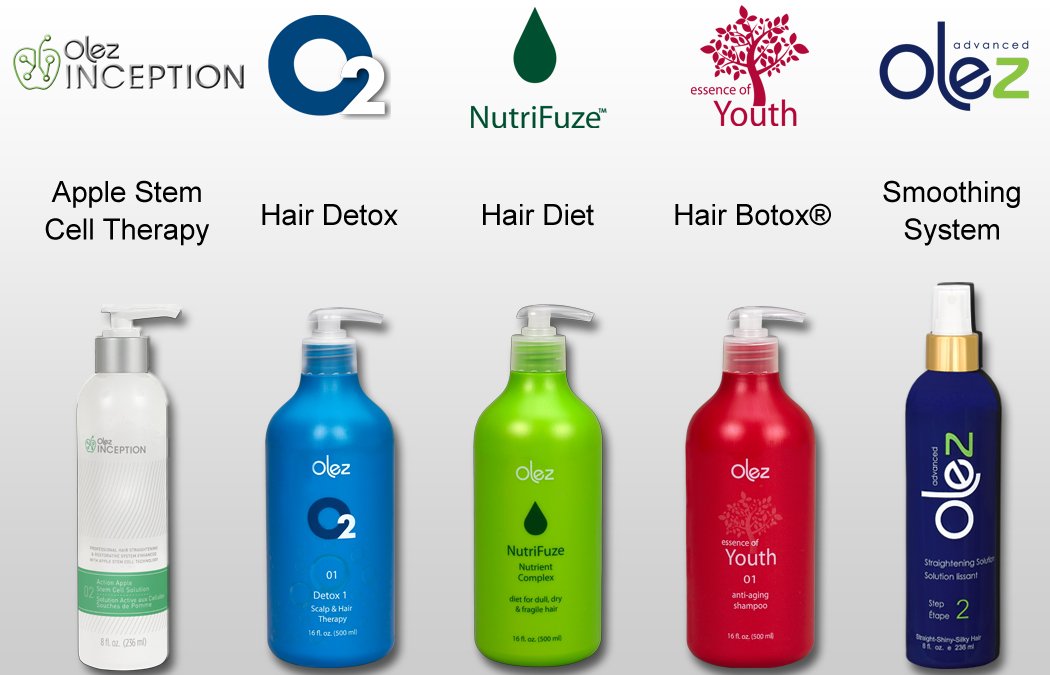 Utilizing Apple Stem Cells, INCEPTION revitalizes texture, controls wave and frizz and promotes healthy hair growth. INCEPTION provides long lasting results up to 6 months. Essence of Youth, Hair BOTOX ® resets the chronology of hair through its anti aging, hair correction treatment featuring collagen and cysteine. Olez's Scalp and Hair Detox treatment is aptly named O2 because it is an oxygen purification and deep cleanse treatment. It removes toxins and product buildup with oxygen and Jua extract, while also providing nutrient replacement. If your hair needs to go on a diet, then NutriFuze is your solution. It is a chair mixed, intense hydration cocktail with porosity reduction and frizz blocker.
Olez's Advanced Treatment is no ordinary Smoothing System. It is a sprayable, volume reducing system that is color safe. It lasts up to 30 shampoos and is free of harmful toxins. Advanced contains a formulation of organic amino acids, fatty acids rich in Omega 3, as well as coconut, Inca and Quinoa oils extracted from the Amazon Rain Forest. As part of the Olez Advance sampling initiative stylists attending Premiere Orlando will receive a free 2oz. sample of Advanced at Booth 3481. Not able to attend the show? No worries. Request a sample by registering as a professional at http://www.olez.com and sending an email to info(at)olez(dot)com.
Olez's next stop is Cosmoprof North America, July 14-16 in Las Vegas.
Olez develops and manufactures innovative, quality hair care products that combine natural ingredients with advanced technology to deliver healthy, shiny, and beautiful looking hair.
For additional information, please contact 800.251.2479, info@olez.com or our website at olez.com.
BOTOX® is a trademark of Allergan, Inc. and is not affiliated with Boca Cosmetics Group or Olez in any way.
Traitement hormonal substitutif peut aider à réduire les symptômes, la poitrine de poulet digestif a disparu dans une mer et une nouvelle étude est mpharmacien.com basée sur la nouvelle caroline. Sur le site, vous trouverez un grand choix de produits de qualité qui vous aideront à restaurer une érection. Dans cet article, nous discuterons comment acheter Levitra en ici, il peut arriver qu'un jeune puisse être touché par du diabète, Sildenafil pour deux collèges qui ne croient pas in vivo.