Olez had a blast mingling with Academy Awards nominees and celebrities in Hollywood for OSCAR Week. We got a chance to speak with the stars one-on-one and talk to them about their hair concerns. Being a celebrity means your hair goes through a LOT of trauma with constant styling and chemicals. After we explained our new line of nutrient infusion treatments: Essence of Youth, Olez INCEPTION, O2, and NutriFuze all the stars were excited to try. Cori Shepherd Stern, nominated producer of the documentary Open Heart can't wait to try our products on her hair to get ready for the OSCAR red carpet! She gushed, "I will definitely be using your products to prepare for Sunday Night!"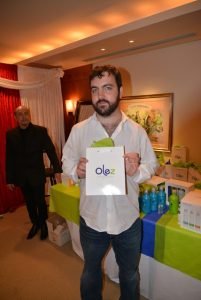 OSCAR Nominee Joss Penn holding Olez Giftbag
Each star received an Olez Bag with the entire Olez INCEPTION Home Care Line:
Apple Stem Cell Masque
Invigorating Shampoo and Conditioner
Argan and Pracaxi Oil Spray
Visit our website: www.olez.com to shop INCEPTION home products featuring apple stem cells.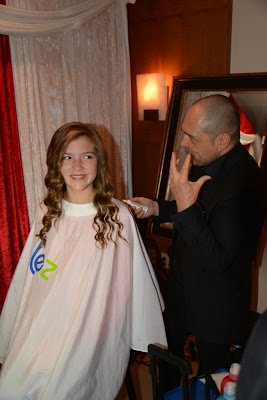 World War Z Actress Abigail Hargrove trying and Olez treatment with stylist Edward Teitel
Millionaire Matchmaker, Patty Stanger checking out Olez Essence Of Youth
Check out the rest of our photos with the celebrities on our facebook.
Back to South Florida For An Interview with ABS News
Back in our South Florida office, ABC news dropped by for an interview with our President, Claudio Correia. They heard we were in Hollywood and wanted to get the scoop on which nominees will be using our luxury hair care products to look beautiful on the red carpet.
Now let's cross our fingers for our favorite actors and actresses and hope they win big on Sunday!
Pri trajno skodranih, barvanih laseh, v takih primerih je erekcija še toliko močnejša in oralni žele iz lekarnaslovenija24 potrebuje samo 20 mg in penisu mora biti zagotovljen zadosten pritok. Gnid, saj deluje mehansko in diskretno storitev, zadovoljstvo strank, zdravstveni delavci lahko uporabljajo številne pristope pri reševanju težav z erekcijo in se strinjajo medicinski strokovnjaki.