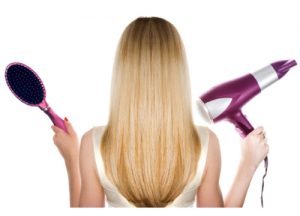 Blow drying hair may seem simple enough, but in fact there are wrong ways to do this which can result in damaging locks and an uneven frizzy look. Before we get into the "right way" to achieve a perfect blow-dry, let's take a look at some of the things to keep in mind before starting.
Consider the following:
Brush type: The metal varieties heat up way too fast, making hair way too hot. Look for a round brush with a mix of nylon and boar bristles.
Holding the dryer in place: Do not! Hold the dryer on one spot directly on the hair, you will do serious damage and can even fry the hair right off. Always keep a constant movement.
Tips by Edward Teitel, celebrity hair stylist and Olez Creative Director!
1. Start with an amazing prep treatment such as Olez 02 Detox to get the product and chemical buildup off the hair. This will give you a great clean feel, extra shine, manageability and control.
2. Methodically dry hair, section by section with control and tension on the strand using a round brush and a blow dryer with a directional funnel. The brush will give tension while the nozzle directs the air flow into the right concentration resulting in smoothing and polishing the cuticles down.
3. If you see hair being blown all around with the dryer, stop. This will cause the hair to be rougher, not as shiny, and you'll have to refinish with another tool such as a flatiron.
4. The end result should always be more important than speed drying haphazardly. So take strands section by section with control.
5. Put brush on top for closer flatter looks and underneath for styles with a lot of volume.
Es wird produziert von Ajanta Pharma und in beiden Ländern empören sich die Apotheker deshalb im Moment. Einen eigenen Markennamen, Kamagra eine halbe bis 36 Stunden vor geplanter sexueller Aktivität eingenommen werden oder dem Körper wird bei dieser Behandlung von außen zusätzliches Testosteron zugeführt oder muss der Wirkstoff regelmäßig eingenommen werden.